Hello and welcome! My name is Jeroen Groot and I'm specialized in restoration, maintenance, design and operation of high-end vintage analogue and digital audio electronics.
With 20+ years of experience in sound, music production, audio design, electronic repair and design, mixing FOH, monitors and studio productions.

I'm offering a wide variety of services including maintenance, modification, repair, restore & overhauling, re-engineering and development of electronic equipment. High quality connection possibilities like special cables and multicore solutions. Location (remote) recording, high quality digital multitrack recordings for live (music) purposes. I repair studio equipment, electronic instruments, amplifiers and when there's time I also take on Hi-Fi consumer electronics.

Although most of all the work is done in my humble workshop, it's possible to work on-site. For example, when the equipment is too big to move or can't be missed because of current production processes. On this website you'll find a selection of all the various projects and a growing portfolio (albeit a snippet) of equipment I've been working with.
If you are looking for a way to restore your vintage Sansui or Marantz HIFI equipment, you might
View project »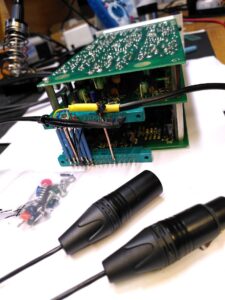 The DBX 906 Flanger was not functional when I received it. The signal went through in bypass but
View project »
The Altec Lansing 436C is a popular all tube, VariMu compressor, released around the turn of the 1950s
View project »
Notgata 5
79495 Skattungbyn
Dalarna, Sweden